Berlin

Architecture
Summer ~ Semester ~ Academic Year
Inspired by Berlin's fascinating architectural transformation and the prolific–often controversial–construction after the fall of the Wall, Lexia created the Architecture Program in 2006. Berlin is a laboratory for design experimentation. Lexia acquaints students with the process of rebuilding in one of Europe's key cities and instills a critical attitude towards the physical and cultural context of architecture. Students contrast the recent ultra-modern commercial and bureaucratic architecture with the corroded walls and incomplete spaces that still characterize much of the urban landscape.
Today's technologies allow architects to design for building sites they may never visit. What does it mean for an architect to propose a building or to rethink an urban situation in a foreign culture? How do architects develop an appropriate understanding of a place, its history and architecture, in the design process? In Berlin's turbulent context, students combine site analysis with their talent and intuition to design locally relevant solutions.
The Lexia Berlin Architecture program demands concentration and dedication, as students learn to negotiate between the experience of living in a foreign environment (as avid consumers of knowledge) and the time they spend in studio (as diligent producers of architectural design). Students must show an open attitude towards learning in a new environment and a special commitment to producing rigorous academic work.
Lexia's Architecture Program is an intensive and unique mixture of studio work, lectures, site-visits, workshops, language training, and excursions. In addition to seminars and studio work, students explore the city and surroundings, visiting historical building sites and museums, and sampling Berlin's rich public culture.
"I have learned that first hand experience and learning through doing is really what schooling is all about. I think I have much more appreciation now for people who do not study inside of a classroom. Books are important, but they are only paper and ink. It is much more important to experience and combine read knowledge with that."
Program Options
The Lexia Berlin Architecture program is intended for students with a background in architecture. It builds on the basic concepts of architectural history, design, and drafting, which students should have previously studied at their home institutions. Experiential assignments are used to add to the students knowledge as well as their portfolio. Work is put into a real-world context of the city around them. Students are connected with local professionals who give feedback experiential assignments.
Students on the Lexia Berlin Architecture program can choose whether to study abroad for a five-week summer term, a semester, or the academic year. When deciding how long to study abroad, students should consult their academic advisor, financial aid counselor, study abroad office and their family. Lexia staff can assist students with this decision. A list of courses and course descriptions can be found below:
Summer Program
Students on the Lexia Berlin Architecture summer program take two courses for a total of 8 semester credits or 12 quarter credits. 
Architectural Design Studio
German Language Course
Semester Program
Students on the Lexia Berlin Architecture semester program take four courses for a total of 16 semester credits or 24 quarter credits. 
Architectural Design Studio
German Language Course
Seminar on the Architecture and Urbanism of Berlin
The Urban Landscape: A Workshop on Public and Open Space in Berlin
Academic Year
Students on the Lexia Berlin Architecture academic year program take eight courses during two semester for a total of 32 semester credits or 48 quarter credits. 
Students on academic year programs complete the regular semester program described above during the first semester. In the second semester, students continue language training and their Field Research Projects and choose two Elective Courses to complete their academic program. Key to a second semester in Berlin is designing a program of study that immerses the student in the local culture via language study, volunteer experiences, course work, and independent study and projects. Students are also encouraged to consider spending the spring semester at a different Lexia site, conducting a comparative or complementary Field Research Project.
Semester 1
Architectural Design Studio
German Language Course
Seminar on the Architecture and Urbanism of Berlin
The Urban Landscape: A Workshop on Public and Open Space in Berlin
Semester 2
Architectural Design Studio
German Language Course
Elective 1: Independent Project, Visual Culture or German Area Studies and Culture Seminar
Elective 2: Workshop, Studio Art, or Special Topics
Courses
Architectural Design Studio (Four semester/six quarter credits)
The studio is the focus for all students in the architecture program. The themes of the design assignments are linked to actual—and mostly unresolved—architectural and urban conditions in Berlin and its surroundings. Students thus explore questions tied to Berlin's complicated history, politics, and culture, in particular how the issues of absence, closure, fragmentation, and partition key to Berlin influence more universal architectural concerns about scale, context, representation, structure, and propriety.
A new topic is chosen each semester based on contemporary urban debates or organized competitions held by the city government, state institutions, or private investors. At the beginning of the term, students work together on Berlin-specific exercises involving site and precedent analyses, then move to a project tailored to their level of architectural design skill and experience. Projects are drawn using the metric system.
Students meet two to three times a week with the studio instructors for desk-critiques and pin-ups, and present their projects to a jury with guest critics at midterm and final reviews. Lexia provides desks with Maylines and lamps. Students supply their own drafting tools, cutting boards, and materials, as well as laptops and software.
The architecture studio addresses the needs of students experienced enough to work independently in all developmental phases of architectural design. Students are expected to formulate a convincing conceptual approach and a well-considered urban strategy to address the manifold challenges of the studio project descriptions listed below, and to produce a complete set of drawings and models illustrating their ideas. Site and precedent analysis help students establish the guidelines for their work, but they are encouraged to look for additional inspiration in their new study abroad context.
German Language Course (Four semester/six quarter credits)
German language courses are taught at the elementary, intermediate, or advanced levels at Die Neue Schule with other international students.
Seminar on the Architecture and Urbanism of Berlin (Four semester/six quarter credits)
This course provides a historical overview of the buildings, architects, and theories that have shaped Berlin's identity over the last two centuries. Classes are coordinated with site visits to buildings selected for both their architectural significance and their reflection of the different periods of Berlin's complex history, with special emphasis on the last twenty years, after the Fall of the Wall. The seminar begins with the emergence of Berlin as a modern European city at the beginning of the 19th century and examines developments through the destruction of the Second World War. Students then compare the efforts on both sides of the Wall to rebuild according to ideological principles determined by the Cold War, and explore how reunification offered Berlin a chance to reinvent itself as a contemporary capital. We also examine the lessons of the post-1989 construction boom, and consider which architectural designs are appropriate to Berlin today, including such aspects as sustainability and urban planning.
The Urban Landscape: A Workshop on Public and Open Space in Berlin (Four semester/six quarter credits)
In a hands-on workshop, students have the chance to design and build at the scale of the human being in an urban context. Students discuss issues of open space in Berlin with its diverse public life. Berlin is covered by extensive green areas, both large planned parks and informal public spaces scattered across the urban fabric. Not all green spaces, however, resulted from innovative city planning, but rather from war, destruction, and division.
With the erection of the Berlin Wall in 1961, vast areas of what had been a dense urban fabric prior to WWII were razed into border zones. The fall of the Wall was the beginning of an exciting era of economic, cultural, and social change; it also revealed the scars left by a gruesome object brutally set into the cityscape. Though recent building has filled most open lots, the future of many remains unclear.
Dates & Deadlines
Spring 2013
Program Dates: January 15, 2013 - May 1, 2013
Application Deadline: November 15, 2012

Summer 2013
Program Dates: June 1, 2013 - July 6, 2013
Application Deadline: May 1, 2013

Fall 2013
Program Dates: September 6, 2013 - December 15, 2013
Application Deadline: May 1, 2013

Spring 2014
Program Dates: January 10, 2014 - April 30, 2014
Application Deadline: November 15, 2013

Summer 2014
Program Dates: May 31, 2014 - July 5, 2014
Application Deadline: April 15, 2014

* All dates are subject to change.  Before making travel plans based on these dates, please contact the Lexia office. 

Housing
Shared Apartments: Students may live in shared apartments (Wohngemeinschaften) within commuting distance of the Lexia study center. The Berlin Wohngemeinschaft can be understood as the postwar attempt by students and other residents to take advantage of the spacious apartments constructed a century ago. Anywhere from two to six people now share many of the city's apartments. Whether in single or double rooms, students share clean, safe accommodations. Apartments are equipped with the essentials, including cooking utensils and linens.
Homestays: Students should be aware that the "traditional" family (two parents, children under 18) is becoming a rarity in urban Germany. For this reason, students may may be placed with an older couple, cousins, or in other family configurations. Most homestay families are long-term Berlin residents and offer insights based on their personal experiences, along with the opportunity to practice German and intercultural skills.
Excursions
The program fee covers all Lexia excursions, which are designed to help students discover areas and aspects of culture that are typically less easily accessible to tourists and give a broad representation of the breadth of German architecture and culture. Most trips are offered in conjunction with Lexia's other programs in Berlin. On some weekends and over the term break, students can travel independently. Excursions may include some of the following:
Dessau: Walter Gropius's Bauhaus complex and Masters' Houses; the Federal Environmental Agency by Sauerbruch and Hutton

Potsdam: Sanssouci parks and monuments by Karl Friedrich Schinkel and Peter Lenné

Wolfsburg: Works by Alvar Aalto and Hans Scharoun; Phaeno Science Center by Zaha Hadid

Cottbus: Technical University's Media Center by Herzog & de Meuron

Dresden: Zwinger Palace; Rebuilt Frauenkirche; The new synagogue by Wandel, Hoefer, Lorch

Bernau: Trade Union School by Hannes Meyer
Integrated into some of the courses, excursions in and around Berlin are an essential part of the Lexia program. These field trips can include:
Museum Island
Alexanderplatz
Schloss Charlottenburg
Tiergarten
Reichstag
Holocaust Memorial
Cost
Semester: $16,950
Tuition: $13,150
Housing: $3,800
Academic Year: $31,550
Tuition: $23,950
Housing: $7,600
Summer: $6,495
Tuition: $4,595
Housing: $1,900
Program Fees Include:
On-Site Orientation (2-4 days)
All Tuition and Fees
All Scheduled Program Excursions
Housing Costs
Services of Lexia Resident Director and Program Staff
Comprehensive Medical Insurance Policy
International Student Identity Card (ISIC)
Official Transcript from Norwich University
Budget
Not included in the Program Fee are the following estimated expenses based on past students' experiences during the semester-long program:
Airfare Ranges from $850–$1,200
Meals not Covered $1,750
Books & Architecture Studio Supplies $230
Personal Expenses $1,380
Estimated Total Additional Expenses: $4,210 – $4,560
Students should also remember to budget for independent travel during the one-week break within the semester.  If desired, students may choose to remain in their Lexia accommodation in Berlin during the break at no additional cost.
Instructors & Institutions
Classes are held at the Lexia Study Center located in Schöneberg, a friendly neighborhood filled with galleries, cafes, specialty shops, and music stores. An updated loft in a fin-de-siecle building, it offers classroom and studio space, reading area, projection equipment, and WLAN. The building houses architecture and design offices, dance and gymnastics studios, artists and galleries, flower shops, and a bakery. Potsdamer Platz is ten minutes away. Lexia introduces students to Berlin's rich public culture, including theater and concerts, open-air markets, outstanding parks and lakes. Our staff also promotes interaction with German scholars, architects, artists, and students, via tandem partners, visits to architecture classes at the Technical University and design office, and social activities.
Christian Dengler (Resident Director, Introductory Architecture Studio, and Workshop)
Born in Hamm, Westphalia, Christian Dengler completed his studies in architecture at the Graz University of Technology and Moscow Architectural Institute with distinction, and went on to work for various international offices, among them Roos & Schregenberger, Zurich; Behnisch & Partner, Stuttgart; Volker Giencke, Klaus Kada, Graz; and Agence Ter, Paris. From 1998 to 2003 he was an assistant professor in Architecture at the Graz University of Technology, Institute of History of Art. He is a visiting lecturer at Vienna University of Technology, Institute of Structural Engineering and Design, at Graz University of Technology, Institute of Housing, at the École Supérieure de Paysage Versailles, and at Strathclyde University Glasgow.
In 2005 he founded StudioCE, an experimental architecture studio in Berlin and Graz. He has won numerous prizes and awards, including the Friedrich Zotter Preis for Experimental Architecture and the Otto Wagner Städtebaupreis. His design-project "Van Straaten's Island" for Daniel Libeskinds Design Studio at Graz was awarded best project of the architecture faculty. His work shifts between different scales, with a focus on conceptual landscaping and urbanism. He contributes to various publications, including the internet platforms GAT and Baunetz, and magazines Der Architekt and AIT. In 2007 he joined the Lexia program, and teaches the Architecture Design Studio and "The Urban Landscape: A Workshop on Public and Open Space in Berlin". He has directed the Lexia Berlin program since 2012.
Lutz Artmann
http://l-artmann.de/index.html
Lutz Artmann graduated from the Technische Universität Berlin, completing a Diplom in engineering with work that focused on the Historical Institute of Potsdam. He has since worked in the Berlin based architectural offices of Stefan Sterf (1997), Stankovi and Bonnen (1997 - 1999), Maisa Koehler (2005 - 2007), and Prof. C. Bonnen (1999 – present), and began an independent practice in 2006. In addition, he started lecturing in structural design at the TU Bremen in 2003. He currently teaches this subject for Lexia in Berlin, and offers additional site visits to buildings such as the Schleich Haus, which was built from an innovative ultra-light concrete of his design. 
Margarethe Mueller
Margarethe Mueller studied architecture at the Technical University in Graz and at the ETH Zurich. She worked for Rem Koolhaas/OMA in Rotterdam and Riegler Riewe in Graz. In 1996 she founded the studio: "Transbanana architects" together with Rajakovics and Vlay, focusing on experimental architecture and urbanism. The projects range between art, architecture, urbanism and landscape design. She was an Assistant Professor at the University of Technology Vienna - Institute of Architecture and Design - Will Alsop, and Lecturer at the Academy of Applied Arts Vienna. Further she taught at University of Seoul-Ansan, South Korea, and was Diploma Unit Tutor at the University of North London. Additionally, she has earned numerous prizes and grants including "Prize of the Republic of Austria for Experimental Tendencies in Architecture" and the "Schütte-Lihotzky Project - Stipend".
Gunnar Klack
Gunnar Klack trained as an architect and graduated from the University of Arts Berlin in 2005. His university education includes one year of study at the Mackintosh School of Architecture, Glasgow School of Arts, and participation in the trilateral international research project 
Grenzgeografien/Cities of Collision
 in Jerusalem. He has worked as an architect for studios in Germany and Switzerland and for Google, Inc. and Ernst & Young Real Estate. His field of research lies in the history and theory of architecture. More recently his doctoral dissertation took the work of postwar modernist architects Hermann Fehling and Daniel Gogel as an example for the conceptualization of nature, movement and landscape as integral aspects of mid-20th century architecture. It explores the relations between the expressionist movement, "organic architecture" in Europe and America, and the educational mandate of Germany's architecture after 1945.
Emily Bereskin
Dr. Emily Bereskin received her doctorate in Art History in 2012 from Bryn Mawr College, where she specialized in architectural history, historical urbanism and urban visual culture. Her scholarly research applies an interdisciplinary approach to the analysis of urban development and ethnic conflict. She has conducted research on urban planning and cultural contestation in Belfast, Beirut, and Nicosia. Dr. Bereskin is also currently a Teaching Fellow at Northeastern University's Berlin architecture program and a Lecturer at Bahçeşehir University in Berlin.
Klaus W. Eisenlohr (Photography and New Media)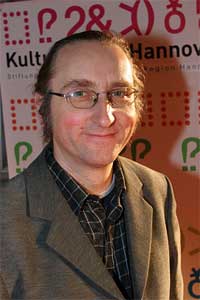 Klaus W. Eisenlohr's works focus on architectural and urban spaces in film, photography, and new media, and question how they shape human life and interaction. Since 1989, Berlin has been Klaus W. Eisenlohr's main residency. He has taught at the Berlin University of the Arts (UdK), the School of the Art Institute of Chicago (SAIC), and the Duncan Jordanstone College of Art in Scotland. He received a MFA from the SAIC with a feature length experimental film and art project. As Meisterschüler at the UdK Berlin, he finished graduate and post-graduate studies in photography, film, and conceptual projects. He has received a number of prizes and grants, including "Cast & Cut" from the Stiftung Kulturregion Hannover and the Berlin Airlift Memorial Fellowship. He curates film and video programs with independent artists, and has shown his films and art work internationally. Exhibitions include the Schillerpalais Berlin, Gallery 1926 Chicago, Kolonie Wedding Berlin, Fotosommer Stuttgart, Galerie Merkel Esslingen, and Mai de la Photo Reims.
Credits
The typical course load is four courses per semester. Students who successfully complete Lexia's program requirements are able to earn the equivalent of one full semester or academic year of college/university level credit, pending approval from their home institution. Official transcripts for the Lexia Berlin Architecture Program are issued by Norwich University, a NEASC-accredited institution located in Northfield, VT, which has a School of Architecture accredited by the National Architectural Accrediting Board (NAAB).
It is the student's responsibility to fulfill the credit transfer policies at his/her home institution, including advising appointments, paperwork and pre-departure or re-entry activities. Students need to contact their study abroad or appropriate office early on to ensure that they complete all requirements for credit transfer.